In this blog post, we wanted to shout about the great material for all countertops that is Quartz.
Manufacturing Quartz Worktops
Quartz is a man-made product that comes from crushed, natural Quartz. It is then comprised of oxygen and silicon atoms. This makes it one of the most resilient materials in the world.
To manufacture a Quartz Worktop, it takes approximately 90% of crystalised rock and combined with resins, pigments, and polymers. This is done by using intense heat and pressure along with glass and metallic flecks that create a light reflective surface.
To create the finished product, coarsely ground quartz produces a flecked appearance. Finely ground Quartz creates a smoother appearance.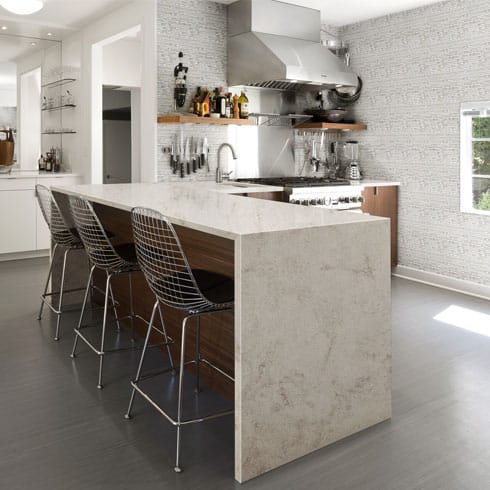 What makes a Quartz Worktop so great?
Quartz is always a popular choice for using all over a house including kitchens and bathrooms. The vast variety of colours and designs make it easy for customers to choose a style to their liking.
Quartz surfaces can mimic that of Natural Stone, Marble, and Granite and overcomes any of the negatives from these products too.
Quartz is easy to clean, hard-wearing, and can withstand the high resistance of stains, makes it an ideal choice for the kitchen and bathroom in any household. It is an extremely robust and non-porous material, making it resistant to liquid absorption. This will prevent any bacteria and viruses from seeping through. It can also withstand high temperatures. Therefore, Quartz is so easy to maintain.
The surface of Quartz is very durable so it will not scratch or crack very easily. The only thing that you need to look out for to prevent this from happening is keeping hot plate and pans away from the surface. A chopping board is also advised when chopping food.
A Quartz countertop will not need sealing or polishing, it can be simply clean regularly using soapy water. This will keep your Quartz worktops looking great and last a lifetime.
Why choose Rowe Granite for your Quartz Worktops?
Rowe Granite has over 50 years of combined experience. We have supplied and installed Quartz Kitchen Worktops throughout the UK.
Our friendly and helpful team will always be on hand to help you with any questions you may have. We have a wide variety of Quartz available to show you so you are bound to find something that will look great in your home.
We have a showroom in Hull but supply and install our worktops nationwide from Quartz worktops London, Leeds, York and Harrogate.
We pride ourselves on excellent customer service. Contact us now for your free no-obligation quote.