When you are having your kitchen refurbished, choosing the right worktop is just as important as colour and style. It is one of the first things that you will notice when walking into the kitchen and therefore, plays a significant role in the overall look.
Another thing to bear in mind is that they not only need to look good, but be practical for your living styles and family life. These are the top 4 things we think you need to consider.
Your Lifestyle
First thing to consider is thinking about what you use your kitchen for. Do you like to cook? Do you like to entertain? Do you have small children who would make use of extra worktop surfaces of activities?
All different types of worktops have their pros and cons, you just have to consider which one would work best for you and your household.
An example of this would be in a country style home with some wooden worktops. These are prone to staining easily and you need to make sure you are careful with hot pans etc as they will get scorched and stained. This is obviously a problem if you enjoy cooking and entertaining.
This can be easily solved with a look-a-like worktop instead. There are plenty of worktop types to choose from to create your dream kitchen.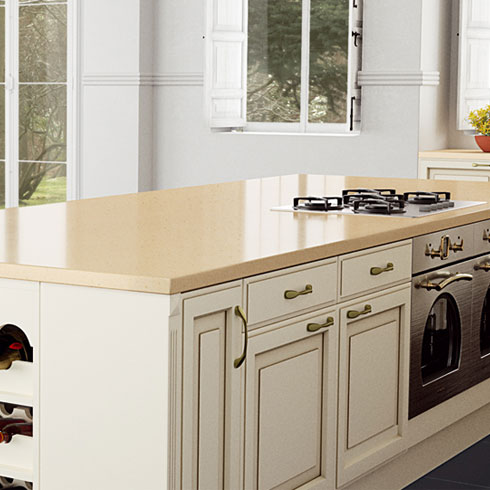 The Budget
Your budget if a huge factor in deciding which kitchen worktop would be the the best for you. We have lots of different ones to choose from and work around your budget.
We would always recommend choosing the best worktops that you can afford and think of them as more of an investment. Alongside this, a more expensive worktop may be better quality but that does not always mean that it performs better. An example of this is Marble, as it does come with a more premium price tag, it does scratch and stain easily. Quartz, however, is generally more affordable and is more durable.
Choosing Your Decor
It is important that you consider the rest of your kitchen when choosing your worktop, to match the current style and colour. Once you have decided on which material will work better for you, the next thing to decide is the overall scheme. You may want to consider what colour your Kitchen cabinets are and work around them.
Other things to think about are;
The size of the room – consider how many dark components you have in the space which can sometimes make the room feel smaller.
Natural light – where can you achieve the most light within the space. This may be hindered by dark worktops.
Walls – how you are going to decorate your wall and will the worktops compliment the decor.
Flooring – your worktops need to compliment your flooring choice too, this will compliment the whole look.
Do you re-decorate often? – if this is the case then a more neutral worktop will provide more flexibility for years to come.
Worktop samples are a great way to try these ideas out and help make the process easier for you. You can gain a feel for how the lighting will look against them and compare them with your decor.
The Layout
Depending on the shape of your kitchen, it can mean a easier fit and therefore cheaper or something that will require more time and organising. This is due to the amount of cuts that will be needed to create them.
If you do have a more awkwardly shaped kitchen, then you will need to be advised on which material of worktop you will be able to use to cater for it.
On the whole, Quartz and Natural Stone worktops are the more accommodating for all design choices. The pattern of the worktop is important too. If you have a vein or pattern running through it, the vein will stop abruptly as it splits to go around a bend. If this is something that would bother you then you may want to opt for a worktop that is a solid colour or a more uniform pattern instead.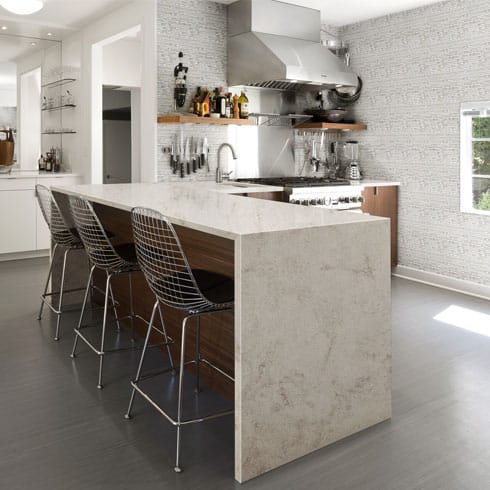 Choosing Rowe Granite
If you need help in choosing, suppling and fitting the best Kitchen Worktops for you then give Rowe Granite Quartz and Marble Worktops a call. With over 50 years of combined experience and a team of friendly and helpful staff, we will be able to help you choose the right worktop that will work for you and your household.
We supply and fit our huge range of kitchen worktops throughout the UK. We have samples of a range of colours, styles and patterns to cater for all decors. Quartz Kitchen Worktops, Granite and Marble are of abundance in our workshop.
With affordable prices, we will be sure to not be beaten, come to use to match any like-for-like quote. Browse our website for our full range and contact us now for you free no-obligation quote.
Granite Worktops London – Quartz Worktops Hull – Marble Worktops Harrogate