Quartz is manufactured by combining 90% Ground Quartz and 8-10% Resins, Polymers and Pigments.
Quartz is a very popular choice for homes all around the world. This is because it is extreemly durable and easy to maintain. Other benefits include its many colour choices and designs due to it being a man-made stone.
The most popular Quartz Worktop colours are of the lighter variety due to the versatility to fit any kitchen. This is also why the worry of staining them can be an issue.
Even though a Quartz Worktops is highly stain resistant it does not mean that it will never stain. Just like the other worktop materials, Quartz is vulnerable to stain for foods like Coffee, Sauces, Red wine etc. This will mostly occur when a spill is not cleaned up immediately.
Unlike Granite, a stain on a Quartz worktop is not due to the fact that the staining liquid is absorbed into the surface. The stain occurs when the fallen liquid reacts with the resin. This is one of the components in manufacturing Quartz countertops. It is these resins that make Quartz countertops non-porous but mean that they can be damaged by cleaners, heat and chemicals.
How Do I Prevent Stains Occurring On My Quartz Countertops?
Stains on your worktops can be easily preventable. Just wipe and clean the spills up as soon as you can when the liquid is spilt. Also, make sure you are using protective surfaces for example, trays, chopping boards, coasters.
A stain can also occur when a particularly white or light Quartz countertop is not cleaned correctly. Try not to clean your worktops using cleaning products that have bleach in. Also make sure that you are keeping paint thinners and detergent away from your surfaces.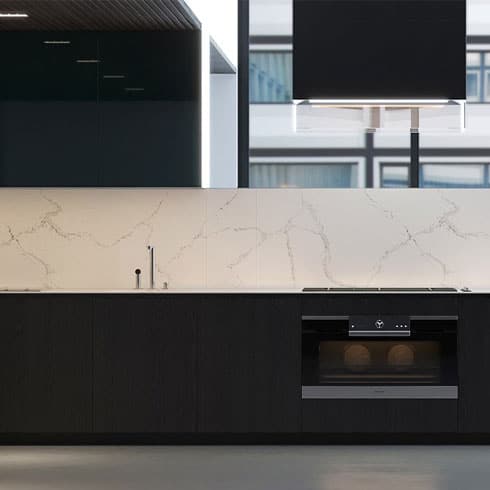 How Do I Clean My Quartz Worktops?
To maintain the beauty of your Quartz Worktops, you need to make sure that you are keeping on top of the maintenance. Even though Quartz may be highly stain, heat and scratch resistant, accidents can still happen.
Your Quartz surfaces need to be cleaned as part of your routine. This will be:
Wipe surfaces with a mild soap solution. Try not to use harsh and strong cleaning products as there will be a higher chance of them reacting to the resin on the surface and therefore cause the Quartz to stain. Ideally, just use a mixture of soap and water with a damp cloth to keep your worktops sparkling.
Choosing the right cloth is very important. Make sure the cloth that you are using for your worktop surfaces in non abrasive. If this is not the case, there is a chance that you could permanently damage the Quartz surface. The cloth to get the best results is a microfibre cloth. It is highly absorbent and wont leave any watermarks.
Make sure you are wiping any spills that occur immediately. Try and ensure that you are doing this as soon as they happen before they get the chance to soak into the surface.
Keeping up with the maintenance of your Quartz surfaces will ensure that they will look their best for years to come. However, once in a while it may be a good idea to deep clean them. This will entail a small amount of non-abrasive cleaner applied to the whole surface, allowing it to sit for up to 10 minutes before wiping them away with a soft cloth.
How Do I Remove A Stain From My Quartz Kitchen Worktops?
In a perfect world nothing will ever get spilt on your Quartz worktops. However, unfortunately this is not reality, stains will sometimes happen. Most of the stains that occur on Quartz are made from liquids sitting on the surface for too long. Some tips for getting stains off include, using a power cleaner, apply the powder on the stain and scrub it with a brush. For smaller and milder stains, glass cleaner is sometimes recommended. Apply the cleaner to the top of the stain and scrub with a non-abrasive pad. Carrying out these methods will remove the stains but will not fix the damaged resin.
Another type of stain they you may encounter will be a water stain. The only way to remove these deposits are to scrape off as much of the deposits as possible using a plastic spatula. Another method would be using steel wool but only use this when making light handed circular motions. This then needs to be followed up by using a dry cloth to wipe and loosed build-up.
Water stains can also be removed by mixing baking soda and water together until it appears to be a paste. Simply pour the mixture onto the stain and rub it with a soft cloth.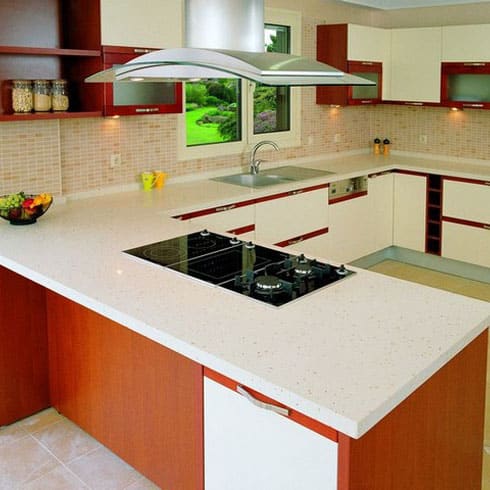 What Are The Common Mistakes With Cleaning Quartz?
Light-coloured Quartz Worktops are the type that are more commonly needed to be cleaned and therefor will sometime encounter some cleaning mistakes.
Acidic and Alkaline Cleaners – They will break down any bonds that are present between the resin and Quartz and therefore could permanently damage the surface.
Metallic Objects can scrape the surface – Do not use any sharp metallic objects to scrape off any stains on the surface. Instead, use a plastic object such as a knife or scrapper.
Hot water – Do not use water that is too hot to clean the Quartz surface, make sure it is room temperature to avoid damaging the resin.
Wiping spills immediately – This is the most common reason why stains remain on the surface. Always make sure you are wiping the liquid as soon as it happens.
Rowe Granite Quartz, Granite and Marble Kitchen Worktops
In conclusion, you can treat some stains that occur on your Quartz worktops but they can be avoided and this will be the main cure for them never ruining them.
Rowe Granite are a family run company who supply and deliver a huge variety of Quartz, Granite & Marble Worktops throughout the UK. Read our reviews of our happy customers and contact us now for your free no-obligation quote. Our friendly and helpful staff will be able to help you with any questions you may have and provide you with worktop samples to help make your decision.
Granite Worktops London – Quartz Worktops Hull – Marble Worktops York