Worktop Design
With the huge range of Worktop choices, it can be hard to choose between the different colours, patterns and finishes. This also gives you lots of opportunity to create a unique look for you Kitchen.
All of our Marble, Granite or Quartz Kitchen Worktops are able to be modified to cater for your decor and become extreemly functional for your home.
Here are some easy ways in which the right worktop design can be both practical and beautiful.
Upstands
An Upstand is installed above your main worktop as a narrow strip of extra worktop. These are two separate pieces of worktop but give the illusion of being joined together and the worktop going up the wall.
Aesthetically, upstands create a seamless finished look. They also cut off those sharp edges at the back of the base cabinets and will soften the whole look throughout.
An upstand is also a great option if you have uneven walls. This is due to them being able to hide the gaps which would usually be covered by sealant. Thus, appearing that the gap has disappeared as the worktop overlaps.
The upstand will also create a practical option as it will stop any liquids escaping down behind the back of the kitchen units, providing a seal.
They also provided a barrier for food splashes on the lower parts of your walls when preparing food. This can be limited as they are usually only up to 150mm in height.
When planning your kitchen, consider using an upstand and how they will protect some of your wall. You may need to consider not covering every wall, just perhaps the areas that you use the most i.e. the sink and hob areas. You can also use tiles or splashback.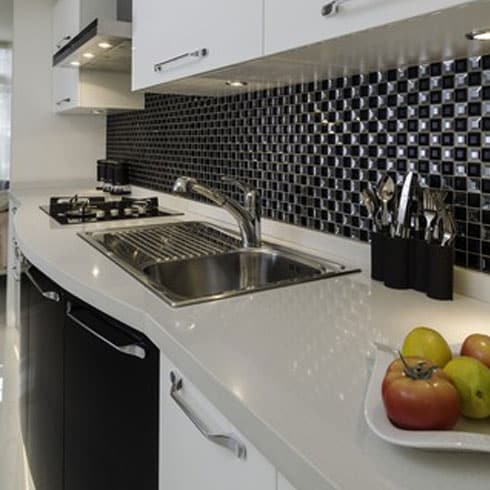 Splashbacks
Splashbacks are very similar to an upstand. This is because they are installed on the wall in the same area above the main worktop.
A splashback, however, is much taller than an upstand and this is the main difference between them. It will cover the whole wall between the base and wall cabinets. Another option is to also go higher to fit above your hob too.
Having a splashback can provide you will a touch of flair to your kitchen from a style perspective. You can coordinate your splashback to your worktop if you wanted to. You can also have a splashback that complements your worktop in terms of colour, using similar tones. Another option could be to have a complete contrast, such as solid coloured worktop with decorative splashback.
From the practical side, a splashback provides protection to your walls like an upstand, stopping liquids and spills. The main difference between them is that splashbacks give the whole wall protection. They are also very easy to maintain and keep clean, using a cloth to wipe any spills.
When choosing which type of worktop, bare in mid choosing one that is stain proof such as Quartz. Another alterative would be Granite that is pre treated.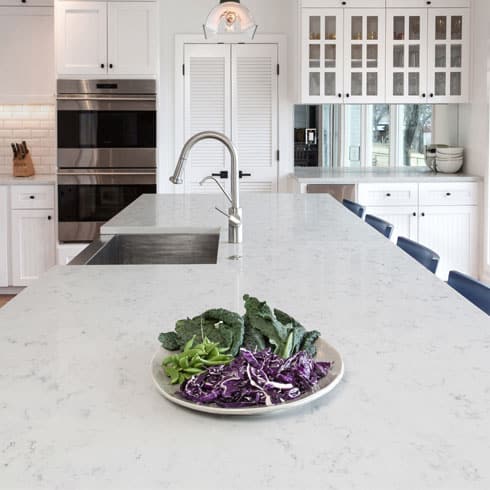 Drainer Groves and Recess Drainers
A Drainer Grove is a narrow flute that is carved from the worktop next to an under mounted sink.
A recessed drainer is where the whole draining area is carved out of the worktop to give the illusion of it being sunk into the surface.
The benefits of either of these are more for aesthetics that functionality. An under mount sink will sit below the work surface, making the draining area integral to the worktop. Thus making it more subtle on the eye than a standard sink and drainer combination. It also allows the sink area to blend into the rest of the kitchen seamlessly.
The only downfall is that the water will not drain as easily as using a traditional draining board. They are, however, easy to wipe to clean any excess water.
Pop-up Sockets
A Pop-up socket is a bank of plugs on your worktop that you can pop-up and push back down whenever you need to. Usually a plug socket will be fitted to the wall but this can often lead to the wire being stretched across the worktop to the area where you may be using your laptop for example.
Pop-up sockets can be located to an island for easy use for example and thus not having the wires trailing from the worktop towards the island which could potentially cause a hazard.
They are also more aesthetically pleasing as some lots of sockets in a kitchen can not be the most attractive thing. Being able to hide them away and pop them up when you need them is perfect.
These suggestions are simple yet make your kitchen not only practical but still keeping the overall decor to a high specification, making it a show stopping part of the home.
Rowe Granite Marble, Granite & Quartz Kitchen Worktops
Rowe Granite have over 50 years of combined experience in suppling and installing Kitchen Worktops throughout the UK. We will match any like-for-like quote and pride ourselves in excellent customer experience.
Read our reviews page to find out what our many customers have thought of our service and the range of Quartz, Marble and Granite Worktops we stock.
Contact us now for you free no-obligation quote.
Granite Worktops Leeds – Quartz Worktops Hull – Marble Worktops