All of our Kitchen Worktops are manufactured to the highest quality. They also come in a wide variety of shapes, colours, patterns and textures. This gives you the chance to explore all options in your décor and create a unique space that works for you.
These can be simple touches that can enrich the look of the whole room and match it to your style and use of the space.
Kitchen Worktops Upstands
An upstand is installed on the wall, placed just above the main worktop. It is a narrow strip that is separate from the main worktop but created the look of it being all in one piece.
They add a great aesthetic addition to the kitchen worktop, creating a seamless finish. They hide the corners of the back of the base cabinets and soften the whole overall look.
Another advantage of installing an upstand is that it can help if you have uneven walls. This will appear more obvious without a upstand as gaps may appear at the back of the main worktop. Of course sealant can be used to hide the gaps but large chunks of it can look unsightly. An upstand will solve this problem as it will overlap the existing worktop, forcing the gaps to disappear.
The upstand creates a seal as the over lap is made, stopping any liquids from escaping down behind the kitchen worktop into the units.
In addition, an upstand is also a great way of keep food spillages and splashes from marking the walls. Due to the height of them not being very high, it is something to consider when measuring up for them as the protection can be limited the lower they are but having them will defiantly be advantageable.
When designing and measuring your upstand, you may want to think about where you prepare food the most. Therefore thinking about would you require the upstands above all main worktop areas or not. If this is not the case, then you may need to think about how you are going to protect the other walls or have upstands all the way around. You could also use tiles or a splashback to achieve this. Such places can be behind the hob, preparations areas and behind the sink.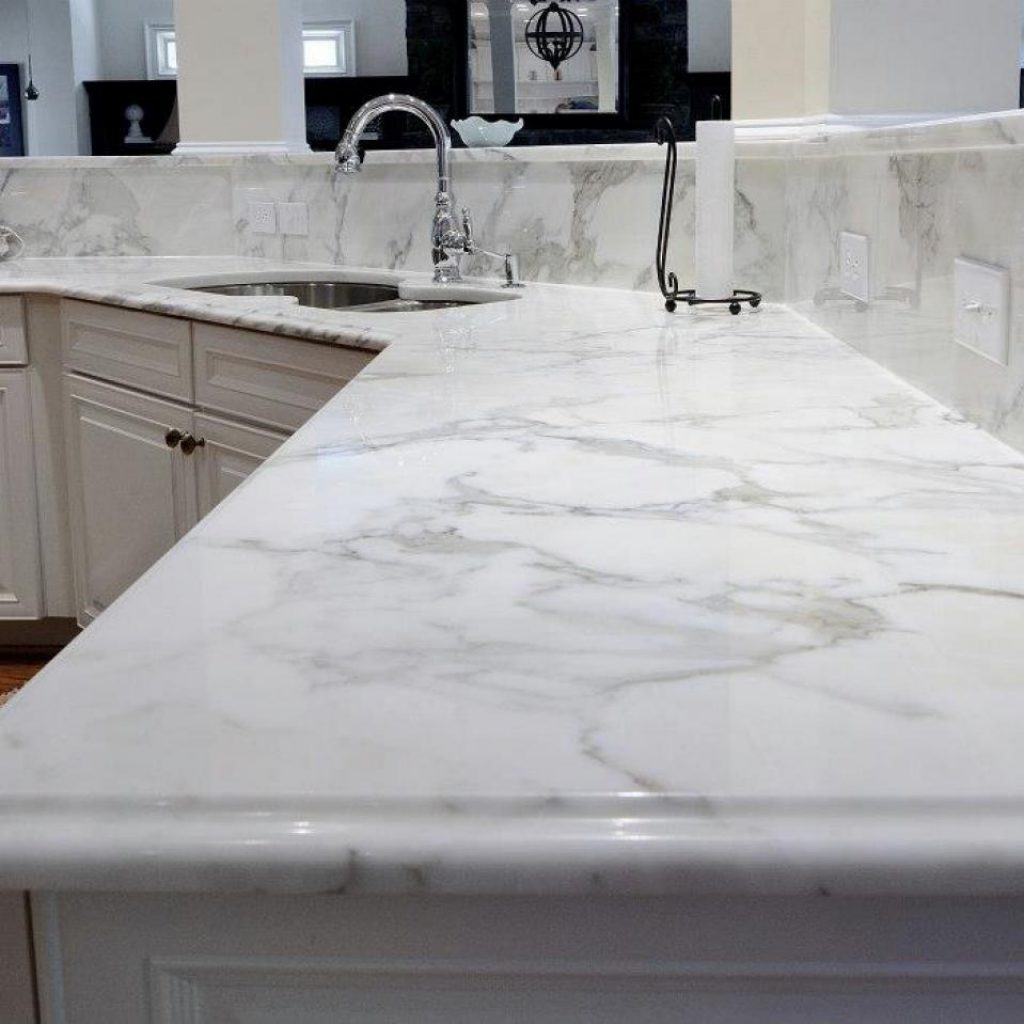 Splashbacks For Your Kitchen Worktops
Similar to an upstand, a splashback is a panel of worktop that is also installed about the main kitchen worktop. The major difference is that is it considerably taller than an upstand. A splashback will cover the whole wall between the base and wall cabinets, creating a whole wall of protection.
You can match the splashback to your main worktop, use them to add colour to your kitchen or creating light my adding a mirrored effect.
Just like an upstand, a splashback will hide any gaps from uneven walls and therefore creating a seal. This therefore stops liquids from getting behind the kitchen units.
As splashbacks are more protective then a upstand due to the height of them, it means that your whole wall is protected from splashes and marks when preparing food and using the kitchen. If they can get dirty, you can simply wipe them clean.
Worktop Drainer Groves
If you have an under-mount sink, a drainer grove can be installed by carving out narrow flutes into the stone worktop next to the sink.
The whole draining area is carved out of the worktop to make it look as though it has sunk into the surface. This is called a recessed drainer. The benefits of having drainer groves in your worktop not just for aesthetics, it is extremely practical too. They create a draining area for the water to flow down when doing the dishes. They are more subtle on the eye in comparison to a stand alone drainer and allow the whole sink area to blend into the rest of the kitchen.
You may find that you still need to wipe excess water away from the worktop when you have finished the dishes and the water may not drain as well as a traditional drainer. This is however, extreemly easy to keep at bay by simply wiping away, keeping limescale and dirt build up away.
Pop-up Sockets for your Worktops
These sockets usually consist of a few sockets in one station and, like the name suggests, pop-up out of the worktop. Pop them up when you need them and push them back down when you have finished with them.
They are great for having in the middle of a kitchen where a traditional wall plug socket may not be easily accessible. This could also cause a hazard if you had a cable hanging from a wall area over the floor. Thus making pop-up sockets a more practical and safer solution.
The aesthetics' of this sockets have great benefits too as you don't have to see them all of the time, just when you want to use them.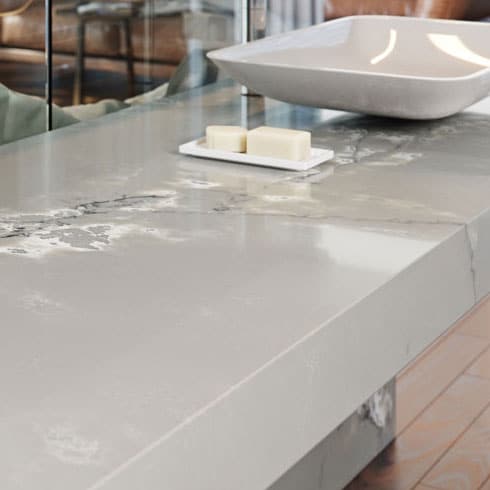 Why use Rowe Granite to install you Kitchen Worktops?
Rowe Granite are a family run business with over 50 years of combined experience from a Father and Son made team. We now have a great team of staff who are experienced, helpful and friendly, suppling and installed hundreds of Quartz Worktops and other types around the UK.
Our team will not be beaten on price and will endeavour to help you achieve the best out of your space. Using a range of design techniques and our wide variety of Granite Worktops, Marble and a variety of Quartz, we are sure to have something to suit your kitchen design and kitchen layout.
Samples of the worktops you like can be provided for you to get a feel of prior to your order to help make your decision a lot easier.
We will not be beaten on price when you provide us with a like-for-like quote. Contact us now for your free no-obligation quote and together we can design your dream kitchen.