When designing your kitchen, you need to think that one size does not fit all of your households needs. It is thinking about how best to utilise the space for everyone but still keep its appearance.
Safety In Your Kitchen
Your kitchen is regarded as one of the most dangerous rooms in the home, due to the amount of accidents that can occur.
Slips, trips, burns, cuts, your kitchen can have a lot of risks. These risks only multiply if your kitchen has not been designed with accessibility in mind.
If you have someone who needs disabled access or if your household has multiple age ranges, then you may find that a standard kitchen design will not cater for you. This is why, when designing your kitchen, you need to think about accessibility requirments for everyone.
The essential point to consider is making sure the kitchen is safe for all users when they are using it. Kitchen safety may feel like something very obvious, however, design and features can be easily overlooked. These can pose a threat to wheelchair users and/or other disabilities.
Something can look amazing however can not always be safe and functional. It is always best to consult with your kitchen supplier about your specific household needs to ensure your kitchen works for everyone in the home. Simple changes such as curved handles instead of sharped edged ones can limit the risk of injury.
Installing Lower Kitchen Worktops
A simple and easy way to make your kitchen accessible to wheelchair users is to drop the height of your worktops. This will ensure that there is enough knee-space between the worktops and tables. You could have all of the worktops done like this at the same height or have a variation.
The average height of a Kitchen Worktop in the UK is around 90cm. This height would be far too high for a standard wheelchair user to use in a kitchen. Adjustable worktops have rose in popularity due to their instant accessibility for wheelchairs users. They can be both pulled down or up to suit the requirements of the user.
This is also an interior design choice to create more light and make the whole room feel bigger, creating a multi-dimensional space.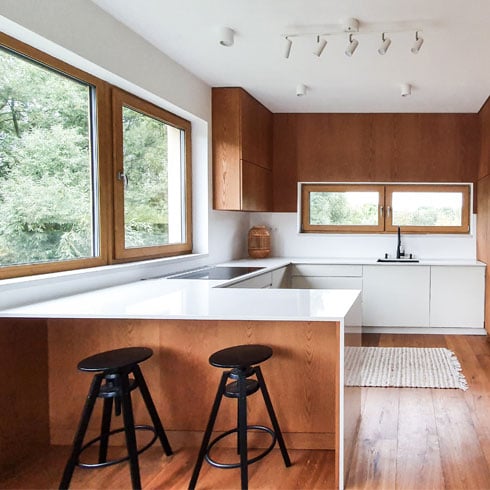 Open Plan Kitchen Living
Designing a Kitchen that is comfortable and accessible to move around in is the key to a happy kitchen. For the best accessibility, a design that has no dead-ends or large island which restricts space and make narrower pathways can not always be the best option.
This is all considered when you will be thinking about your household and what you will be primarily using the kitchen for.
If you will be using your kitchen for entertaining, you may want to consider larger standing areas for socialising. This means limiting areas where people cannot get by each other, thus more open spaces when people can move around as free as possible.
Measuring the space between your worktops and/or islands is the key to know if people are able to pass each other. Once you know this, it will make the rest of your kitchen design easier.
Kitchen Storage
Storage can be tricky to get right in any kitchen. You may want to keep your work surfaces clutter-free therefore needing more storage options.
Making sure that all of your cupboards are accessible is important. Putting them at multiple levels is a simple and effective way to do this. You can create a cupboard that can slide to the side or beneath to have full accessibility to them without having to move your body around awkward places to reach them.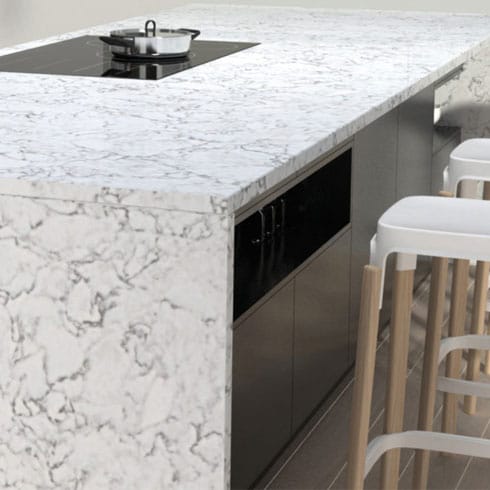 Appliances & Materials
There are some appliances now that you can buy called Smart Appliances. These are something to consider when making your kitchen accessible.
Some come with added Bluetooth inside to help with the ease of using them. Ovens are also mid height to help wheelchair uses.
Depending what you are using your kitchen for, you may need to consider what happen if and when something spills on them. Can all family members clean any spillages right away? If the answer is not that choosing the right worktop is vey important.
Marble is a material that stains and scratches easy, therefore, not the best option for a family with small children for example. Other stones like Granite Worktops or Quartz are much more durable and therefore a great choice for any family who prefer not to have a strict care routine. They can both withstand high-traffic and do not compromise of the look.
Rowe Granite, Quartz and Marble Kitchen Worktops
We have a huge selection of different Quartz, Granite and Marble Kitchen Worktops to choose from. Our friendly and helpful staff supply and install them for hundreds of happy customers throughout the UK. Read our reviews and contact us for your free no-obligation quote. We will not be beaten on price for a like-for-like quote.
Granite Worktops Leeds – Quartz Worktops London – Marble Worktops Harrogate