Whether you need a worktop for your Bathroom, Kitchen, or Bar area, Granite is an excellent material to use. It is extremely durable, practical, and very stylish for any space.
Granite has a natural beauty and glossy shine which makes it look timeless. They have always been a popular choice but they can be an investment for the future.
What is Granite?
Granite is formed from the slow crystallization of magma from below the surface, becoming a light-coloured rock. It comprises natural Quartz and Feldspar with small quantities of Mica, Amphiboles, and many other minerals.
This blend of materials allows Granite to have its trademark speckled appearance. It also means that it can have various finishes which is what makes it a desirable kitchen worktop.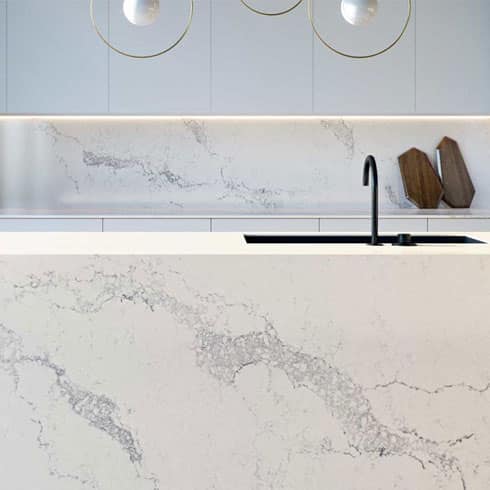 The Benefits of Granite
Value
Granite is eco-friendly and will increase the value of your home from the look it gives your room. It will add instant appeal to potential buyers.
Durability
The durability of a stone-based countertop is hard to find something as tough. You will rarely notice scratches or chippings on the surface of Granite. This is due to the sealant on the stone that is applied to achieve the best results. Another benefit is it can extend the lifetime of the countertop and help it resist stains.
Eco-friendly
Granite is an earth-friendly material and is able to retain its natural look. Although there is a difference between an old rock and one that has been tumbled and polished in order to retain a high sheen. It will enhance the natural pattern of the countertop.
Easy to repair
Granite can be repaired more easily than other materials and some professionals are able to match the precise colour of the countertop, then reseal the stone to protect it from any spills.
Family Friendly
Granite is great for a busy family due to the way it can withstand the spills and other instances that occur. It can also withstand hot pats that may be put directly onto surfaces.
What different types of Granite worktops are available?
What different types of Granite Worktops are available?
Tiled Granite
A Tiled worktop is very affordable and will look very high-quality. The only down fall is that they tend to be more difficult to clean due to the various seams that are created during installation.
Modular Granite
This is often referred to as the mid-range option. They are miniature slabs that are much lighten and easier to put in than other Granite slabs.
Slab Granite
Granite like this can be immensely heavy and therefore difficult to put in properly. This can result in cracked or broken slabs while trying to be installed into your home. 
Colour Options
The minerals that are used to make Granite, allow it to have a huge selection of colours and patterns. The range depends on the concentration of those minerals within the stone. When these combinations of those minerals occur, allows us to have a range of colours. From white to black, from red to green, the possibilities are endless.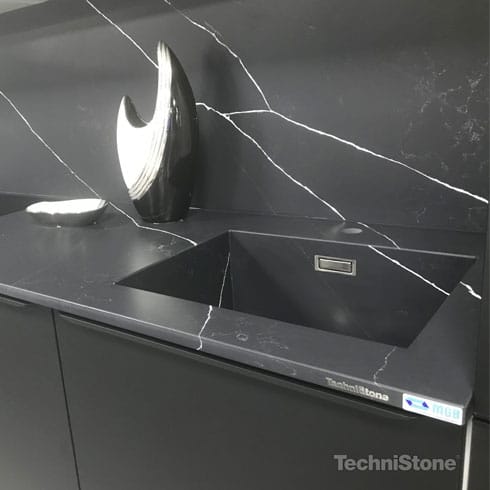 Key points to remember when purchasing a Granite Worktop
Cost-saving
An example of how to cost save when purchasing would be to buy your sink before you buy the worktop. This is to make sure you are not cutting the Granite for a sink, i.e. an under mount sink requires much more cutting that a drop in sink, therefore making the labour cost higher.
Thickness of the worktop
Consider buying the 1-inch thick Granite worktops due to them being a lot more resistant and last many years longer than the 3/4 inch think worktop alternative.
Inspect the stone
Make sure you are looking out for hairline cracks on the work surface in the stone. This can be quite tricky to do as the thing with Granite is that the cracks give that natural look to the stone. Unfortunately, this can also lead to damage. Ask how these cracks can possibly be removed and if they are safe for inside your home.
 Seamless Worktops
Having a seam in your worktop can sometimes be worse over time and require replacing sooner than a seamless worktop. They are sometimes a more costlier option but they do appear much better.
Rowe Granite supply and install your Granite Worktops
Granite comes in a wide range of colours and patterns, every slab is different. This therefore, makes them unique for every home.
Granite Worktops can be supplied at fitted by our skilled members of staff and will really set your kitchen out from the rest.
The benefits of having your own Granite countertop are huge, they are a lasting investment and durable for the household. Rowe Granite have over 50 years of experience in supplying and installing Quartz worktops, Granite and Marble all over the UK. We will not be beaten on price, contact us now for your free no-obligation quote.
Granite Worktops Hull – Quartz Worktops Leeds – Marble Worktops Harrogate