The kitchen is the heart of any home. Many households nowadays what the flexibility to both cook and socialise at the same time as well as having more floor space and preparation areas. A Kitchen Island can provide both of these.
Kitchen Islands are very multi-functional. They can be used for more storage, an eating area, or a place for your cooker appliance to be situated. Here we talk about how they improve your home in many ways.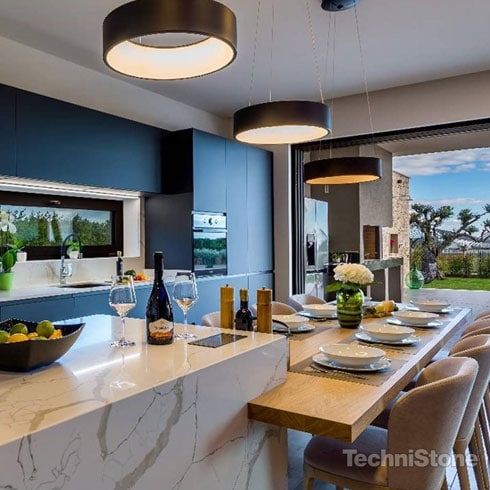 To create a stylish kitchen area using Quartz, Marble or Granite Kitchen Worktops
If you do a lot of cooking, you can never have too much preparation space. If this the case then you also need a worktop that is very durable.
The best material to use for this is Quartz. It is the best at holding up to being scratch resistant making it perfect for cooks chopping up their next meal. It is hygienic and non-porous too, meaning that it does not stain. It is also very easy to maintain and keep looking its best.
Flexible Living/Dining space
A Kitchen Island can be used to separate the kitchen area from the dining area of your home. They can be any shape or size that you require so they can adapt to your available space.
They can even be curved or l-shaped to help create that boundary. Some kitchens will have space that is a kitchen, living room, and dining room altogether. A kitchen island gives that impression of a divider in place to separate these areas.
Value to your home
When you have your own kitchen island situated in your home, it provides a stand-out feature that will attract the interest of potential buyers.
It will certainly add that 'Wow Factor' that people are looking for when viewing the kitchen of a home.
Make the most of your space with a Granite, Quartz, or Marble Kitchen Worktop
In smaller kitchens, you need all of the extra space that you can get for storage and cooking.
A Kitchen Island not only provides both of these but also an extra workspace, dining areas along with additional seating too.
When thinking about designing your new kitchen island, consider what you would use it for. This is because it can be used to situate a kitchen appliance. For example, an oven, a wine cooler as well as sinks.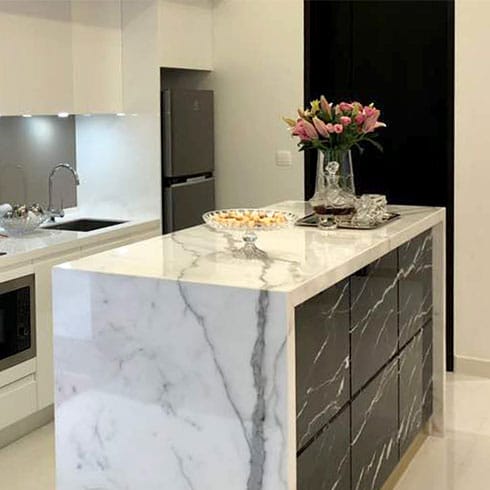 Why choose Rowe Granite to supply and install your new Granite, Quartz, or Marble Kitchen Island?
Rowe Granite has over 50 years of combined experience in supplying and installing Quartz, Granite, and Marble work surfaces from a family-run business of father and son Chris and Wayne.
Through this time, they have built a great team of staff who are helpful and hard-working to get you the right Worktop for the right price.
We have a variety of Quartz, Marble, and Granite worktops for you to sample.
Contact us now for your free no-obligation quote on 0330 223 6522. Our friendly and helpful staff will be there to guide you throughout the whole process. Although our HQ is based in Hull we can supply our Kitchen Worksurfaces Nationwide
Quartz Worktops Hull – Quartz Worktops London