There are many pros and cons to both of these beautiful stones that make them a great choice for any kitchen, bathroom, or work surface.
Here, we have listed a few things to consider when you are making the choice between the two materials.
Granite Worktops v Quartz Worktops
If you are looking for authentic stone worktops, then Granite is your only option when up against Quartz. Granite is a natural luxury material made from pure stone. The Granite is mined and formed into huge polished sheets that are then ready to be cut to smaller worktop sizes.
Quartz worksurfaces are man-made from crushed quartz that is then mixed with colour pigments and a resin to bind the materials. Usually, the quartz content in the worksurfaces is between 92%-94%
While natural stone Granite Worktops look incredible, they do come with some cons. Due to the Granite Stone being a porous material, the worktops require sealing after installation. They will require resealing on a regular basis, whereas with Quartz, they will not require this level of maintenance. With granite being a porous material, this means that granite worktops will stain much easier than the quartz rival.
Some granite countertops are sealed using a resin-based sealant at the manufacturing stage. This will make them more resilient than a Granite surface that are unsealed. However, they still are not as resilient as Quartz Worktops.
The maintenance of a Granite kitchen worktop can be quite tricky too. You will need to be quick to mop up any stains as quickly as possible to prevent any permanent marks on your surface. This is something to really consider if you use your worktop regularly.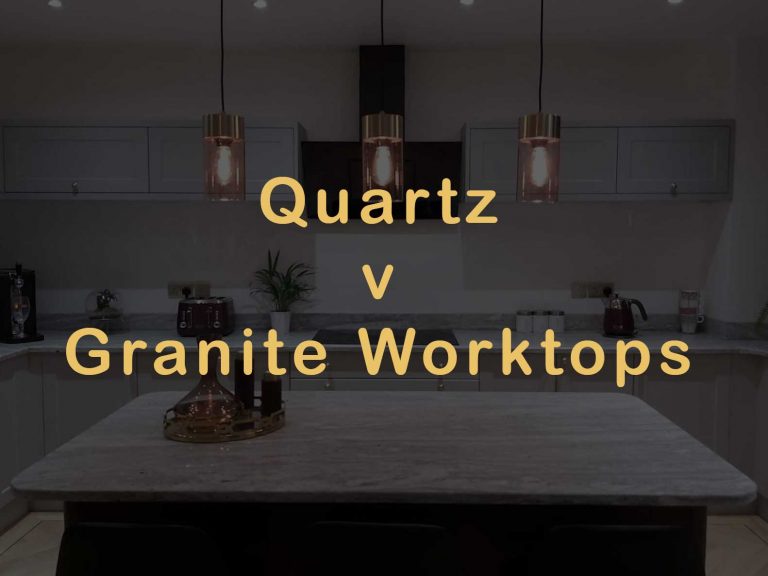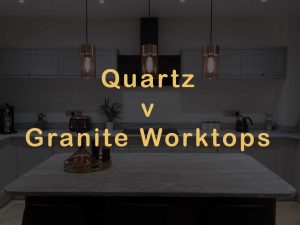 The Appearance of Granite & Quartz Worktops
The appearance and colour of granite will all depend on the quarry from which it was mined. Appearances can range from subdued earthy tones to more vivid blues, reds and greens.
One of the most important decisions when thinking about which of these countertops to choose from will be if it will look great in the room. Quartz offers lots more colours, yet you can still see the seem in between each slab. Granite gives the option of more earthy tones that can resemble Marble.
Due to the reasons mentioned above, we are finding that Quartz worktops are becoming the more popular choice when up against Granite. Again, this is due to Quartz being easier to maintain, more colour choices and its durability.
Granite, however, does have some benefits over Quartz. Such as its higher heat resistance and also being made from 100% natural stone.
We will always help answer any questions our customers have when comparing Granite Worktops v Quartz Worktops. To help them choose the perfect work surface for them.
Why choose Rowe Granite to supply your new Granite or Quartz Worktops?
Here at Rowe Granite, we have over 50 years of combined experience, with a father and son partnership. A family-run company that have supplied quality worksurfaces to many happy customers. We supply Quartz and Granite Worktops throughout the UK.
We take ultimate pride in the work that we carry out, striving for excellent customer service and this really shines through in our genuine customer reviews. Please don't hesitate to contact us if you have any questions regarding the different types of worksurface material available, we will be happy to help.