New Kitchen trends come and go all of the time. Kitchen colours have therefore become extreemly popular and making it more affordable for people to add their favourite colours to the heart of the home.
Green has become extreemly popular in recent years. From the right dark tones of dark green, to sage and mint tones not forgetting emerald tones. Green Kitchen Inspiration can be adapted to suit most decors to compliment the space.
Whether you are adding Green worktops or just some Green accessories, there are so many ways in which you can add green to your Kitchen to keep it on trend. Carefully styling your Kitchen using the right accessories and shades can bring a sense of nature to your room along with peace.
Why Green?
We understand that changing the whole decor of your Kitchen can be quite an upheaval. This is why simply incorporating Green into your Kitchen using it as a accent colour and the main shade within the same can allow this to happen without having to fully redecorate.
You could change your kitchen unit doors Green for that instant colour change. Or go extreemly bold and change your kitchen worktops green.
Either of these choices can be a bold statement but can really feel like you are bringing the outdoors inside your space. Many people choose green for this reason as it allows excellent natural lighting and links the garden to the inside.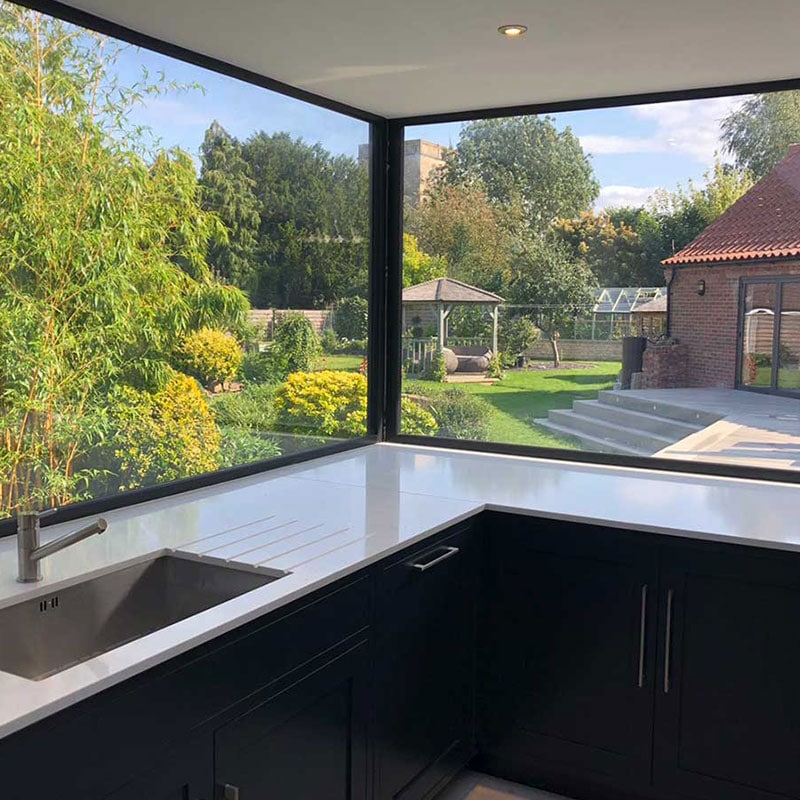 Blending In
If you do choose Green for your Quartz Kitchen Worktops or units then you can also blend the scheme with the rest of the room by choosing the right shade. This can be adding gold elements to your kitchen for example gold handles on your units. This will provide contract and will look amazing.
Choosing The Right Shade
Whichever colour you end up choosing for your Quartz Kitchen Worktops or your Kitchen Units, Rowe Granite will certainly be able to assist you will all the help that you need.
All of our team will be on hand to help you through the whole process from start to finish. Our wide variety of stock will allow you to choose whatever your heart desires and we ae sure to have something that will suit your style and decor.
Contact us now for your free no obligation quote.
Quartz Kitchen Worktops London – Granite Kitchen Worktops London