Quartz is rated very highly when thinking about updating your kitchen worktops. This is due to its amazing properties and stylish look. This is why customers want to know the best way to keep them looking their best for as long as possible.
The hard-wearing property of Quartz stone can sometimes lead to it becoming stain in a highly trafficked area for example, the Kitchen. Quartz has a highly polished feel and sheen to it making it susceptible to scratches too. Some customers have been devastated when they have not be able to achieve that polished lustre after they used the wrong cleaning products on the area.
Keeping Quartz Clean
There are a few basic tips to keep your Quartz Kitchen Worktops looking their best for years and years to come:
Try to keep the amount of crumbs and dust away from the Quartz surface for a long period of time. This is so that the crumbs and other materials do not have the chance to scratch the surface when moved around.
Wiping away spills as quickly as possible is a must. The best way to do this is by using a wet micro-fibre cloth.
When you have used a wet micro-fibre cloth, try using a dry micro-fibre cloth to buff the Quartz worktops as dry as you can.
If you have any dried in stains on the area, the best thing to do is contact a professional worktop cleaner who will be able to advise you on some purpose-built cleaners that are available.
Following these simple steps will ensure that you keep your Quartz Kitchen Worktops looking amazing.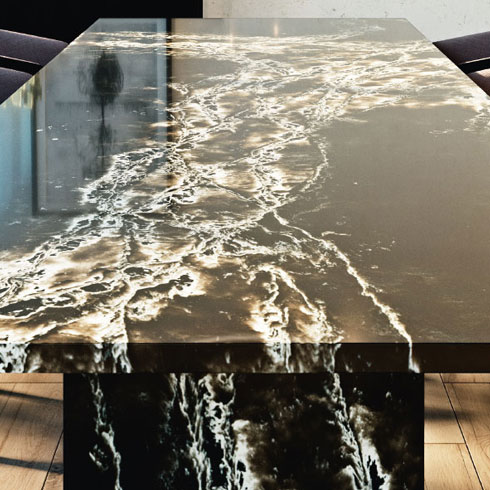 Daily Quartz Cleaning Routine
Quartz is one of the easiest and most maintenance free worktops that are available. This is why keeping on top of the cleaning of them is very simple. The key thing to remember is the longer that a spill is left on the surface of Quartz, it is allowing more damage to potentially be causing the Worktop.
Using The Right Products
A key point is to make sure that you are not using any strong chemical products on the Quartz surface. This, for example, means bleach which can, if left on the surface too long, can effect the sealant. This is not what you want to happen as this protects the surface.
Check with you manufacturer which product they recommend if you have a specific stain to remove to make sure you do not cause more damage.
Using The Right Cloth
Making sure that you choose the right cloth for the job is crucial. This cloth needs to be non-abrasive to make sure that it does not make the surface of your precious Quartz.
A micro-fibre cloth is the one that is mostly recommended, especially when wet, along with a second dry one to buff the excess away. Micro-fibre cloths are absorbent and will not leave any water marks. Another option is a glass cloth to keep the high shine finish. Water is all that is needed, no fancy products, just simply water and a cloth.
Quartz can be susceptible to stains but is more resistant to them than other natural stone such as Granite and Marble. Quartz is almost completely non-porous, which is why stains are less likely and therefore easier to remove if stains to occur. It is also one of the best for being scratch resistant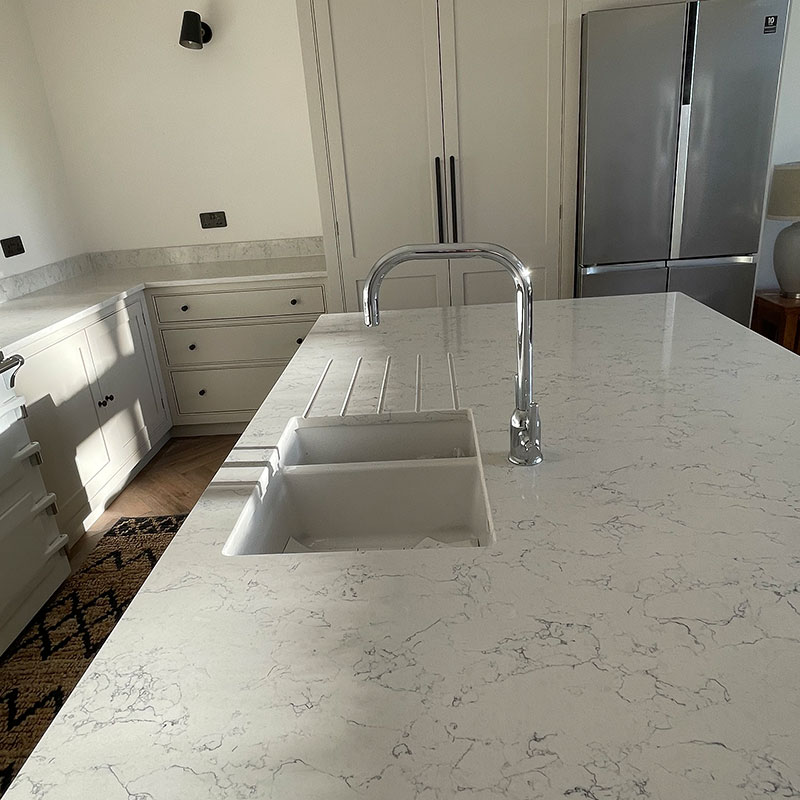 Why Choose Rowe Granite To Supply & Install Your Quartz Kitchen Worktops
Rowe Granite have built an excellent reputation for quality service, the best products and workmanship in the years we have been trading. We started as a small Father and Son business and have built our team around us using quality and helpful staff that will be sure to bring the best work surfaces product for you budget with our huge variety of styles, colours and patterns of a high quality to choose from.
We offer a free no obligation quote and can provide samples of our varieties of Quartz to your home to help make your decision as easy as possible. Contact us now, we will not be beaten on any like for like quote.
Quartz Worktops Hull – Quartz Worktops London – Quartz Worktops York