There are a number of different ways in which you can achieved that mind blowing kitchen worktop design to enhance its appearance and really make it stand out.
Some things that you can do can be very subtle and practical for the home too. Here are a few examples;
Add a Drainer to your Quartz or Granite Worktops
Having drainer grooves installed can be a great prevention of limescale build up and keeping your worktop looking its best. It will stop the water sliding along the rest of the worktop and even onto the floor. Quartz is one of the best materials to do this on as it is a non-porous material.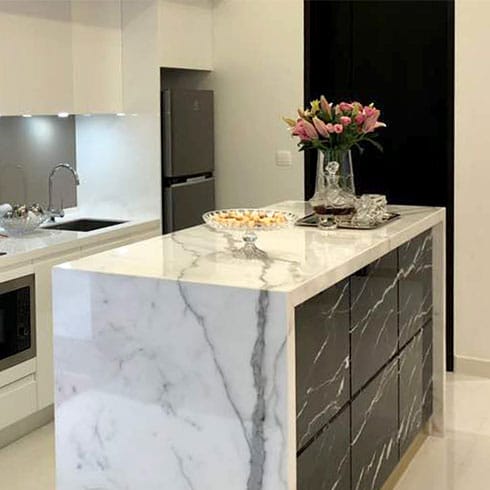 Kitchen Island
Having a Kitchen Island in your kitchen creates a really sociable space for family and friends to gather around. They are ideal for extra storage, a seating area and even a place for appliances including ovens.
Breakfast Bar
A Breakfast Bar is also a really useful social space with the added extra of a seating area. They are become more and more popular, small or large, they are great for a dining area.
Curved Corners
Having your kitchen worktop curved to becoming increasingly popular for kitchen designs today. They are a great addition to any kitchen, adding that more modern feel to any worktop. They are also a softer, safer edge and a thing to consider when young children are in the household.
Undermounted Sinks
A sink that is undermounted can really give that distinctive, stylish look to your sink area. It is a modern touch to any kitchen and will create that flow of the kitchen worktop material all around the kitchen.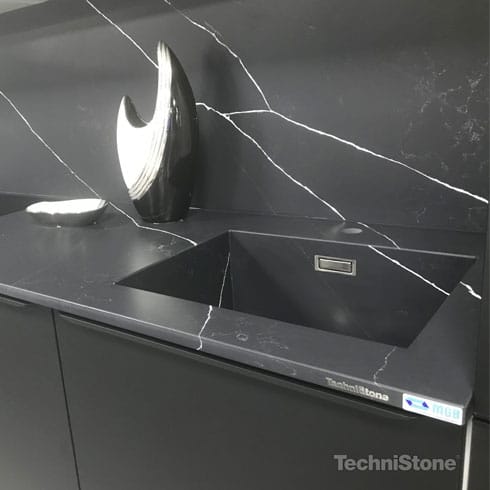 Why choose Rowe Granite to supply and install your Kitchen Worktops?
Here at Rowe Granite we pride ourselves on excellent customer service. We know that a new kitchen worktop is an investment and we want to make sure that you choose the right one.
We supply and install Granite Kitchen Worktops, Quartz Countertops and Marble Worktops all around the UK. Our high-quality products will change the appearance of any kitchen. Our staff will take care of the whole process for you from start to finish and will help you in anyway that they can.
Contact us now for your free no-obligation quote.
Quartz Kitchen Worktops London – Granite Kitchen Worktops Leeds