A Kitchen Island is one of the best ways to create a functional area in any home. If you have a big or a small area to use, we can find the right design to make it work for you.
They are excellent for preparing food, dining, socialising, working and much more. They have become the must have accessory to many kitchens across the world. A Kitchen Island can be designed into your new kitchen from the first instance or can be added extra when living in a home.
Giving that modern day life can be hectic and busy, a Kitchen Island allows you to explore your creativity, adding more usable space which is also needed in any home. They can be used for extra storage which is always useful and even to create an area for kitchen appliances to be fitted into, for example an Oven.
Using the size of your Kitchen to the best of its ability
Whatever your size, layout or décor, a Kitchen Island is the perfect way to enhance any homes space and unique style. You can choose from many different patterns and colours to suit you. The size and shape can be altered to make sure it can be useful for you, depending on the size of your kitchen and what you plan on using your island for. The materials that are used to create these islands are Quartz Worktops, Granite or Marble.
When considering having your own Kitchen Island installed, there are a few things that you need to consider. This includes what you are using it for, to make sure that it will work for you and your family.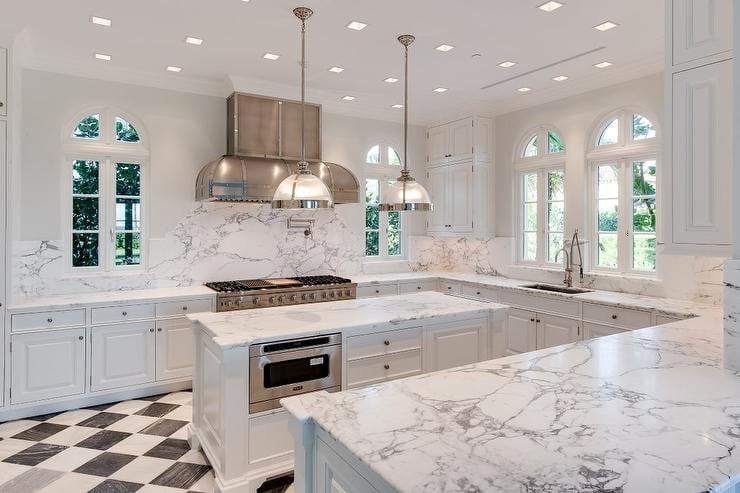 Functionality
It is essential before starting the design process to consider what you are planning on using your Kitchen Island for to make sure it is practical. This could be, seating, storage and available space.
The best outcome of a Kitchen Island is design preparation. The best design will ensure that all of your needs are met. If you just require a seating area for example, that a smaller and adaptable space is required.
If this is the case, here at Rowe Granite, we may design you a dual sided island. This would enable you to have one side for cooking/preparing and the other side for dining. This may include a sink, hob or other essentials for you.
The other option would be a large open space which and be multifunctional. The most important thing to always remember is the design part is the only way to ensure that you what you are using the island for is the best for you.
Shape and Size
When going through the design process, it is important to consider the metre rule. It is advised to have at least a metre of space between the Island and your other Kitchen Units. This is so you can move freely around your kitchen and making it a safe environment. It also means that other kitchen essentials like a dishwasher and washing machine doors can open with ease.
The shape of the island also needs to be bared in mind as this can impact the overall design and feel of the space as a whole. A rectangular shape is usually the most popular, however, you should consider other shapes that may flow better in your kitchen, creating a more cohesive design.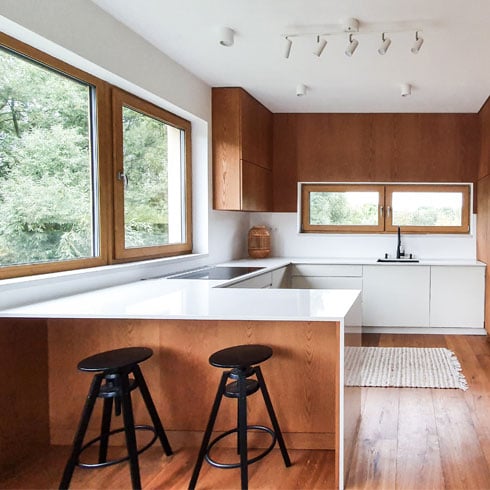 Functionality
Designers will create the look of your kitchen based on its functionality and it working well for you. If your kitchen is a space where you spend a lot of time cooking and entertaining, then placing an oven into an island is a great way to create more worktop space and make it functional.
If you needing more storage primarily, an island with a range of different sized and shaped drawers and cupboards would be more beneficial to you. This could also include a small fridge for example and storing pots and pans which can sometimes take up lots of necessary cupboard space in your main kitchen units.
The design should also consider if you are wanting to incorporate some seating into the island. If this is the case, then you need to think about how high you would like your seating. For example, a higher unit would mean bar stools would be used for seating and can give that more unformal, relaxing dining feel. This however, is not very suitable for formal dining, again, something else to consider when thinking about what you are using it for.
The Factors of a Kitchen Island
These factors will determine your seating layout, so for those trying to achieved a more inviting dining atmosphere and space, may want to think about wrapping the seats around the corners of the island instead.
By taking all of these factors into consideration, you kitchen island end result will make your kitchen the most functional that it can be and accessible for everyone in the home for many years to come and help with day to day living.
The Kitchen is the heart of any home and maximising its use is paramount to make it a functional space for the whole family.
Your Rowe Granite design team will help with these questions and considerations. We specialise in Quartz, Marble and Granite Worktops to create the best space for you. Contact us now and allow our friendly and experienced team help you to design and structure the best Kitchen Island that is perfect for your home.
Quartz Kitchen Worktops Hull – Granite Kitchen Worktops Harrogate