A Quartz Worktops could be the best choice for you if you want to have a brilliant looking kitchen. Quartz is manufactured from pieces of natural stone that is bonded together and is very effective from providing a sophisticated look for your kitchen. It is blended of artificial resin and Quartz.
Before you consider bringing a Quartz Worktop into your kitchen, you may want to read about its pros and cons to find out if it is the right choice for you.
The Pros Of Having A Quartz Worktop
Aesthetics
One of the main advantages to a Quartz Worktop is its aesthetics. They given a beautifully polished and refined look to any kitchen. And, due to the way it is manufactured, they can be easily adapted to suit your decor.
Durability
Another benefit to Quartz is its durability. Its surface is non-porous which means that it is less likely to stain or crack which is perfect for a busy kitchen.
They are also scratch resistant which even is perfect for a busy kitchen. If you compare this to Granite, the difference is in durability is like day and night. Quartz is tougher with four times the flexible strength and double the impact resistance, it is a very solid surface.
Cleaning
Cleaning and maintenance of any worktop will be one of the most important factors when choosing a worktop to fit around your household.
Because Quartz is a non-porous material, it means that the surface is filled instead of having microscopic pores that exist on the surface of other materials made from natural stone. Thus meaning that spillages to do lead to stains on the surface as they do not seep inside. Quartz is also antimicrobial meaning that no microorganisms can attach themselves to the surface and therefore reducing the infection rate.
Patterns and Colours
Because Quartz is a natural stone, every single piece is completely different. The patterns will always be slightly different to one another meaning you receive a unique piece. The colour of Quartz can be easily manufactured to the colour and pattern of your choice, based on your colour scheme.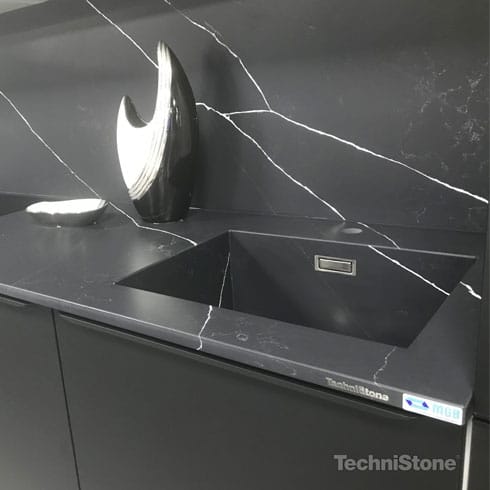 The Cons Of Owning A Quartz Worktop
Finances
Quartz is less costly than Granite and Marble but it will be an investment for your home. You will need to be thinking long term when installing these worktops but with their durability, you will gain the benefits.
Heat Resistant
The actual Quartz material is able to withstand high temperatures. However, the resin and polymer fillers that are manufactured with the Quartz unfortunately not heat resistant. This means that the hot cookware that you may place on the worktop may melt the resins and therefore lead to discolouration and/or permanent damage to occur.
If this happens, you will notice some white spots and cloudiness appearing on the surface. If heat damage is something of a concern for you then you may want to consider another surface material such as Granite.
Modern Appearance
Quartz, as we have previously mentioned, provides a very modern look to your kitchen. But if you would like more of a contemporary look for a more traditional kitchen, then Quartz maybe isn't for you.
Being artificially engineered, Quartz tries to mimic the natural appearance of stone. It does, however, fail to do replicate the natural beautiful imperfections of the surface to Granite and Marble.
Outdoor Usage
Indoor use is the only real option for Quartz worktops. If outside use is what you need then the elegance of Quartz will be affected. There are many other surface options for you to consider if an outdoor kitchen area is something that you are looking to create.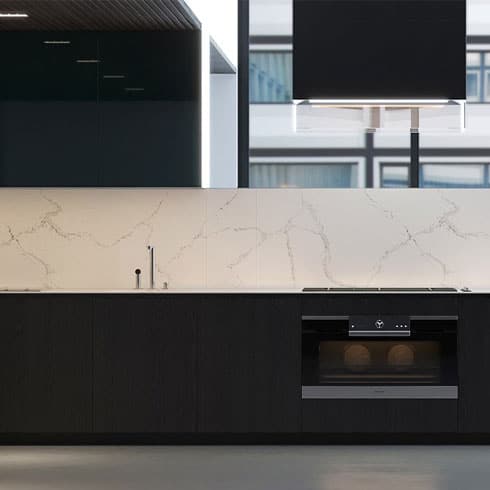 Conclusion To Quartz Worktops
Choosing a worktop that is right for you can be very difficult. You need to think about a lot of different variables and the investment that you are going to be putting into your home. Quartz is low maintenance, very durable and looks amazing in any kitchen or bathroom.
They offer a range of different advantages and, like any other kitchen surface, some disadvantages. You just need time and research which one will be best for you.
Rowe Granite have over 50 years of combined experience in supplying and installing Quartz Kitchen Work Surfaces throughout the UK. Our friendly and helpful team will be on hand to help make this process as easy for you as possible, helping you every step of the way.
We can show you samples of different Quartz and show you colour charts to match your decor. We have a huge range of Quartz samples for you to choose from.
Contact us now for your free no-obligation quote.
Quartz Worktops Leeds – Quartz Worktops Hull – Quartz Worktops London