Marble has its pros and cons like any other worktop. Some people will say that nothing compares to the feel of real, natural Marble making it a great choice for a Kitchen Worktop.
In this blog, we go through the different appeals to Marble to help you see its beauty and appeal.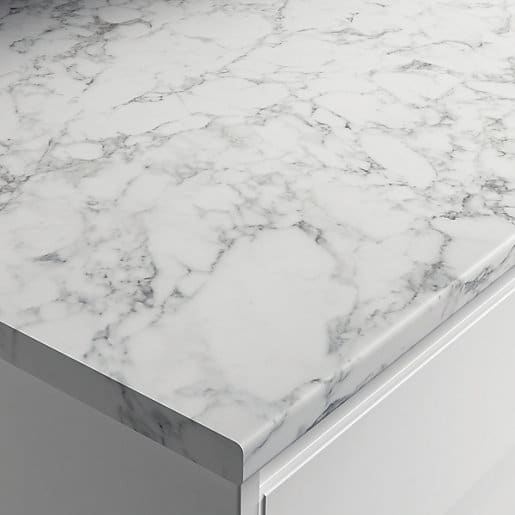 Marble is long-lasting
Marble is a metaphoric rock that is composed of recrystallised carbonate minerals which are most commonly calcite or dolomite.
Marble is a strong, hard-wearing and very touch material considering it is a fairly soft stone. It can deal with lots of use making it perfect for a family kitchen environment.
Marble is used for both decorative and functional purposes and has been for thousands of years. Marble is a material that is surprisingly economic and very aesthetically pleasing.
Change over time
Marble is known to change over time and can show some knocks, scratches and etching the longer you have It and use it. This is sometimes looked at as both a pro and a con to Marble. Some people argue that the scratches etc give the Marble Kitchen Worktop that authentic look with character, others will say it will start to look to used and needs replacing.
You will need to be aware if you are going to purchase a Marble Kitchen Worktop that you need to be prepared to clean up any spills as soon as possible to avoid any lasting damage to them.
Man-made worktop material
If you are looking for a more low maintenance worktop then a man-made material might be a better suggestion for your Kitchen Worktop. You want to be making the right decision for you and your home.
Some people may like the fact that Quartz and Granite are more of a sleek and shiny finish. Along with its easier care, it does have more appeal. There are so many options out there for you to see, it is best to see all options and learn about the pros and cons of them before making your choice.
Man-Made Quartz Worktops
Quartz has added chemicals, resins and pigments in it to make it a hard-wearing and non-porous material, making it ideal for Kitchen Worktops.
Typical man-made Quartz is made up of around 90% natural Quartz and the other 10% will be unnatural products. These worktops are extremely durable, stain-resistant and easy to maintain.
The Beauty of Marble Kitchen Worktops
Marble is undeniably beautiful in its own way and it is totally personal preference. Its smooth finish feels cold and expensive giving it that luxurious feel. Also if you do lots of baking and cooking that Marble's cold surface is great for rolling doughs etc.
The sustainability of Marble is sometimes debatable. It is non-renewable to which the extraction process can use lots of energy meaning that eventually the supply will run out. On the other hand, it is a natural material that can be recycled and will last for such a long time.
You can opt for a Polished or a Honed Marble Worktop finish. Polished is simply shinny and Honed is a more matt finish look. Again, personal preference on what suits your style when choosing between these two.
Polished has its benefits because polishing adds layers of protection to the worktop, making it less likely to see spills on and stain. A Honed finish is slightly better at covering scratches but either of these finishes will show the scratches slightly.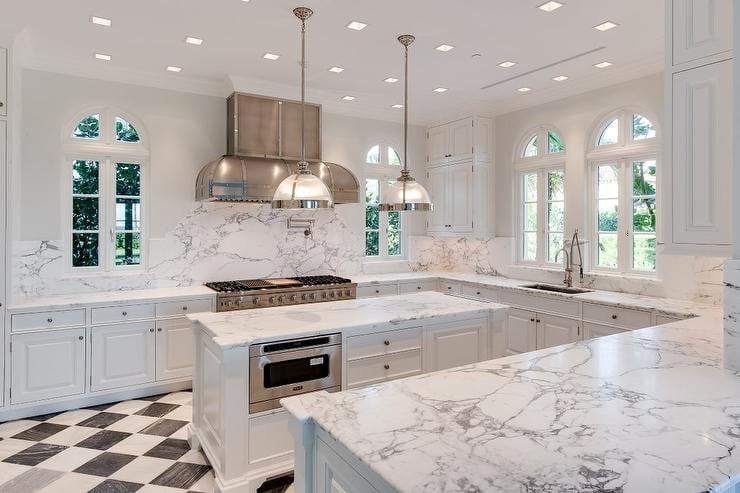 Rowe Granite Marble Kitchen Worktops
Marble Worktops are supplied and install to homes all over the UK by Rowe Granite by our dedicated and helpful team.
We are a family run business that is always finding new ways to help their customers make the choice of a kitchen worktop a stress-free process. We can bring you samples of different worktops, colours, styles and textures for you to match to your home.
Contact us now for your free no-obligation quote.
Rowe Granite Quartz Worktops – Granite Worktops London