Rowe Granite have a huge range of Quartz Worktops for you to choose from. We offer samples of the worktops you are choosing from to help make your decision easier for you. The main reasons we love Quartz are the variety of colours and textures you can choose from, their sustainability and easy maintenance.
Below, we go into more detail on these points:
Quartz Choice Of Colours & Textures
We love the range of colours and textures Quartz has to offer. We are proud that we have so many to choose from making sure our customers always have something to suit their decor and home. You can be sure to find something for you as Quartz comes in many shades, tones and finishes to suit any household.
Whether its a fiery red you are looking for or a simple grey, Quartz has so much to offer.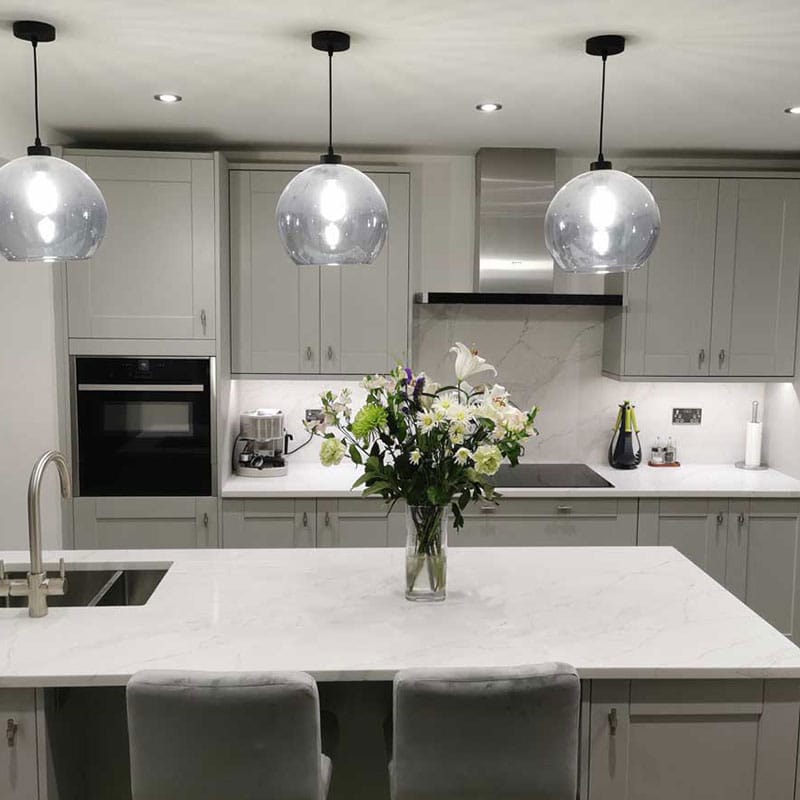 Sustainability
Quartz is an impressive stone that has the ability to be easily cleaned and maintained. Quartz is stainproof and waterproof, making it food safe due to its easily to clean surface.
They are less likely to become damaged as apposed to other stones due to their properties. Quartz is a non-porous material making it not susceptible to liquid seeping through the stone. You will not need to use harsh chemicals to clean your Quartz either, just a simple cloth and soapy water will do the trick.
Tough Material
Quartz is one of the toughest materials you can fine for your Kitchen Worktops. This is due to the way that is engineered. Quartz is an engineered stone and is made from 95-97% Quartz along with a small amount of resin bonding. Thus making the stone hard to damage, difficult to stain, waterproof and durable.
Quartz can be found in nature and has been around for hundreds of years making it a very desirable product.
Creating Quartz Worktops
Quartz is manufactured in a way to create the perfect Kitchen Worktops to the specific measurements of your kitchen. They can be made for Kitchen Islands, Bar areas and so on all to the size and shape you require.
You can even add other details into the Quartz for example draining boards, edging and spaces for appliances. Each of the slabs will be uniform to match one another giving the room an amazing look.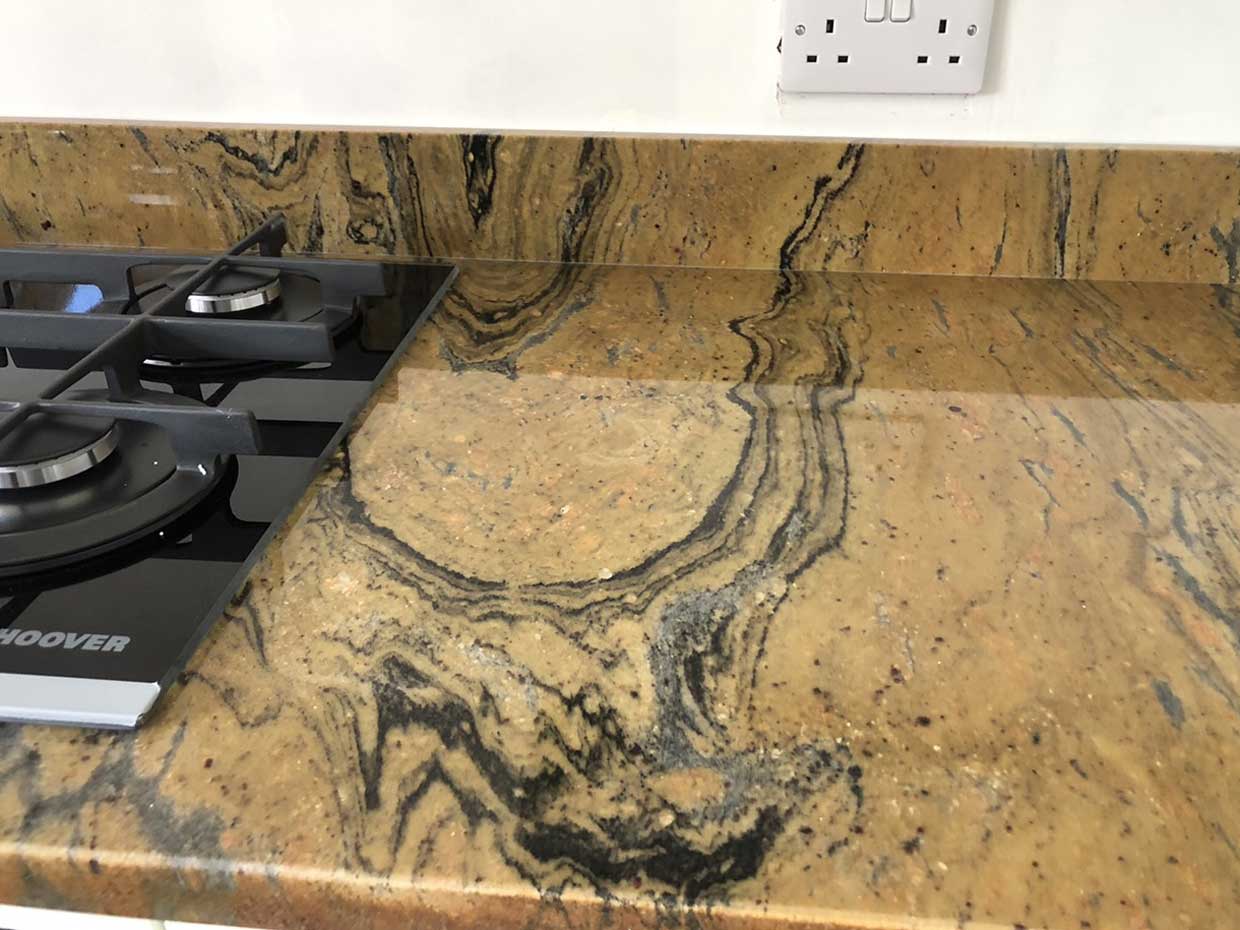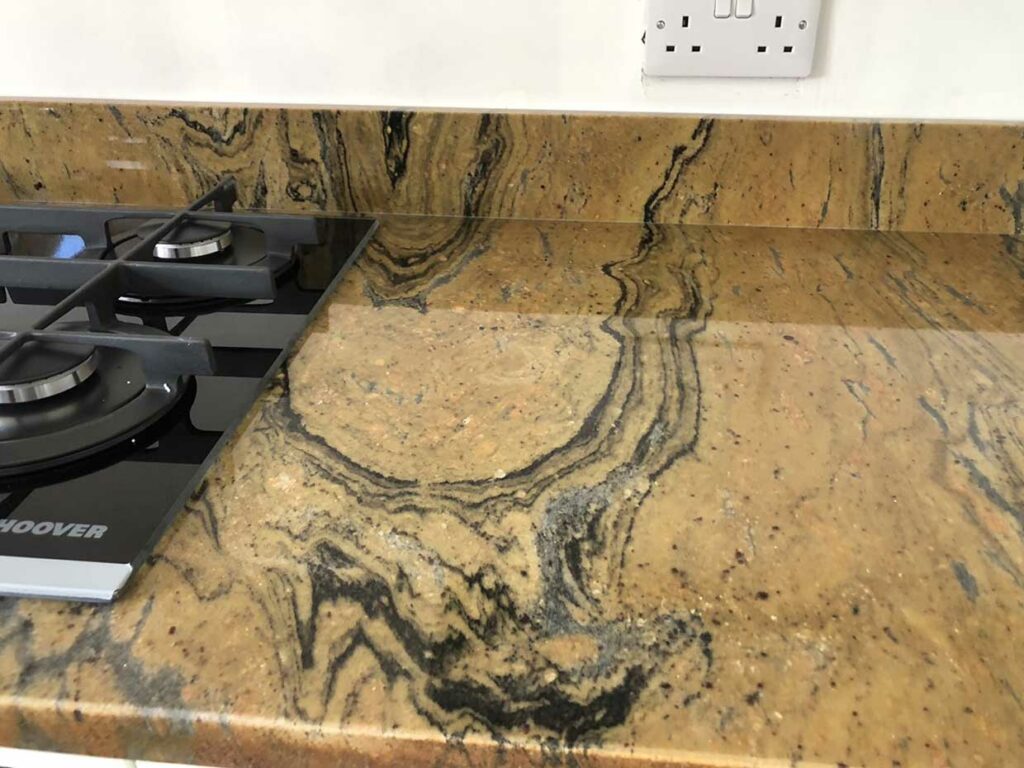 Rowe Granite Quartz Kitchen Worktops
Rowe Granite are proud to offer such a wide variety of high quality varieties of Quartz Worktops for you to choose from. Our friendly and helpful staff will be able to show you some samples of the Quartz colours and patterns that you are leaning towards to help make your important decision easier for you. We pride ourselves in what we do and have done so for many many years building up our team that once started as a family run Father and Son business.
It is a joy to supply and install many Quartz work surfaces in our happy customers homes all around the UK. Read our reviews page to see what some of our customers have said about us and our work. We love being able to see the finished article and make the household happy, bringing their dream to life.
Come and start your journey with us starting with a free no obligation quote. Contact us to make an appointment. We supply and deliver Quartz & Granite Kitchen Worktops throughout the UK.
Quartz Worktops Hull – Quartz Worktops London – Quartz Worktops Harrogate