There are many different reasons why Modern Kitchen Worktops have become so cutting edge. There is more choice than ever before for starters.
Which ones are the best for you? What material will work the best for my family kitchen? Rowe Granite have many options for you and will use their experienced knowledge to help you along the way. We will ensure that our customers have the best Modern Kitchen Worktop for their budget, size and home.
Natural Kitchen Worktops
Granite is a stone that we have on offer at Rowe Granite for your Kitchen Worktops. It is mined out of the ground along with other natural stones. It is then cut into Worktops using minimal processing.
They have amazing natural beauty and will be the real show stopper in your Kitchen. Each of the Granite slabs are unique, no two will ever be the same. It is formed using natural forces that are underground over thousands of years. This is why it is hard to match the pattern but it does mean that you will have the most amazing unique worktop.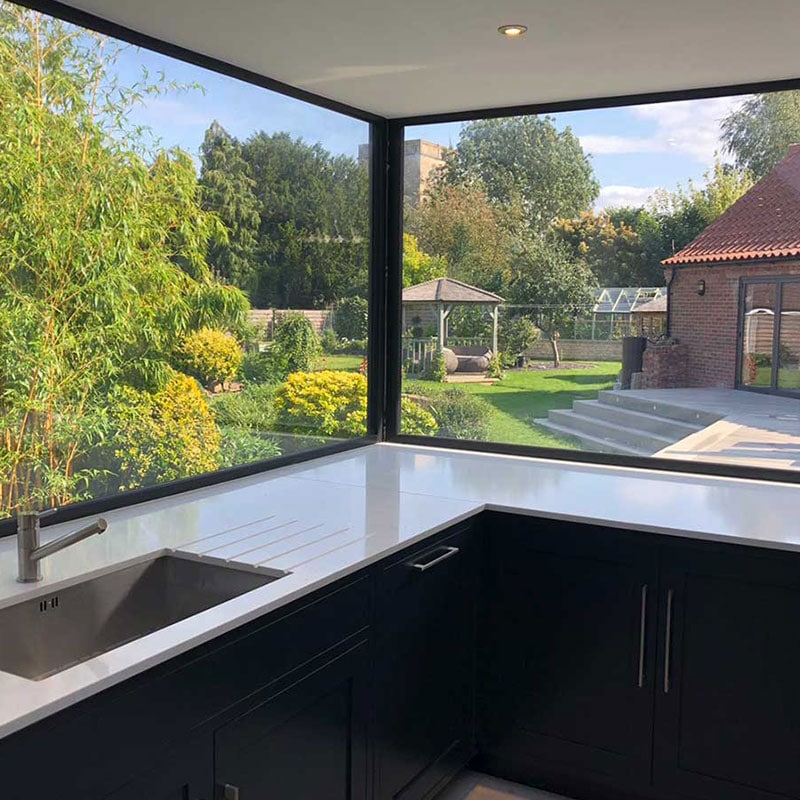 Quartz Kitchen Worktops
Quartz is one of the toughest materials around and is a natural solid surface material. It does not, however, come out of the Earth in slabs to be then formed into a worktop.
Quartz is manufactured by using small pieces of Quartz and a small amount of resin to make the slabs. The resin is often dyed to produce the desired colour. Quartz is typically 93-98% Quartz, therefore making them extreemly tough.
Engineered Stone
A Quartz Surfaces is a processed stone due to the way that they are manufactured. They are produced from stone particles and portray stone upon completion.
It is some great properties including heat resistant, water, scratch resistant and stain resistant along with hard to damage. Manufactured stones are more consistent of colour and texture too thus making it easier to match a pattern.
Sealed Or Unsealed Worktops
Some natural stones are porous which means that they have small microscopic holes within them. This means that they will act like a sponge upon absorbing liquids into the worktop. This can be food or liquid and could become lodged.
Sealing the holes creates a smooth surface that will not stain easily. This is why it is usually recommended to seal all natural stones, even one of a non-porous property like Granite. Processed stones are already sealed when they are cut into shape, therefore this process does not need to happen.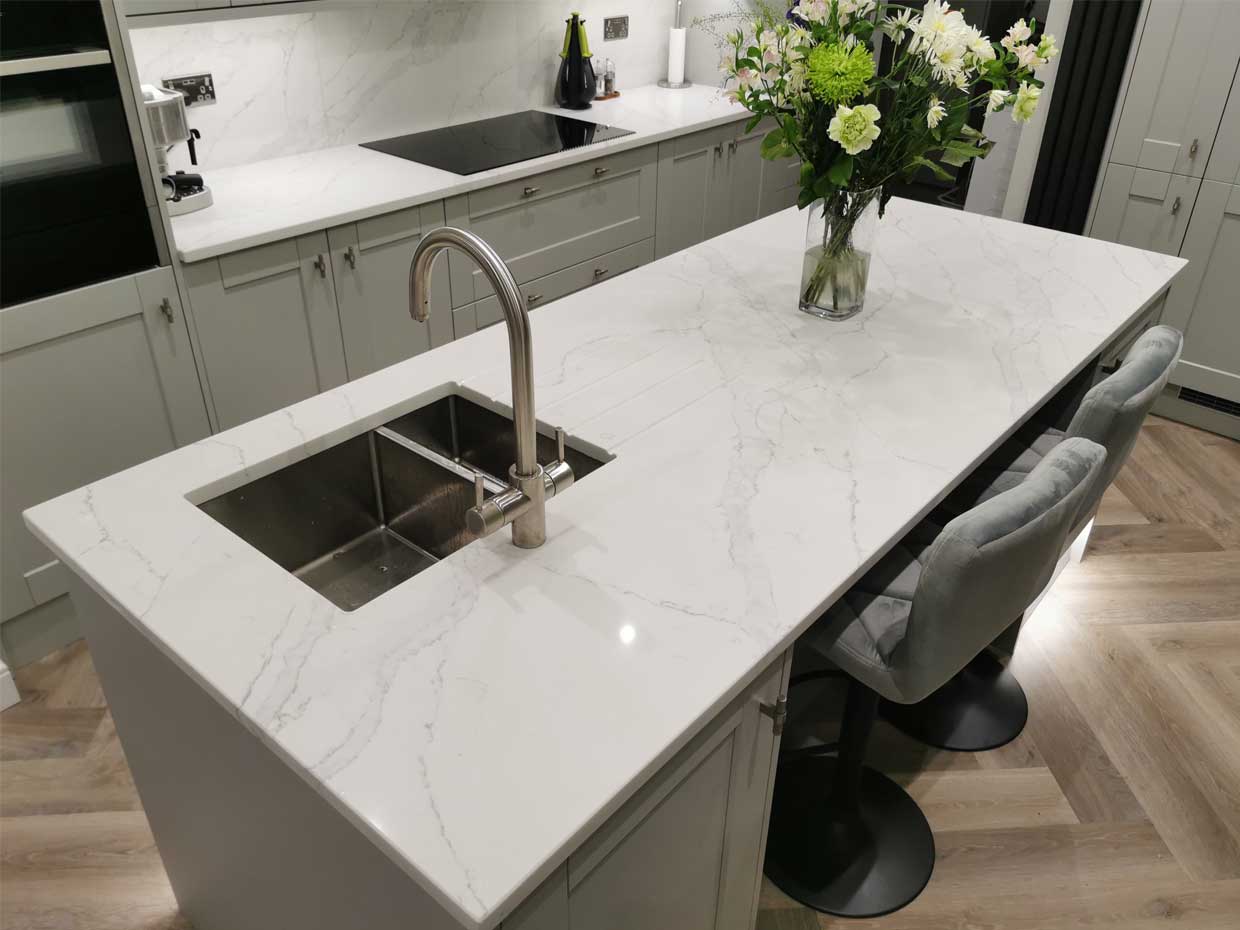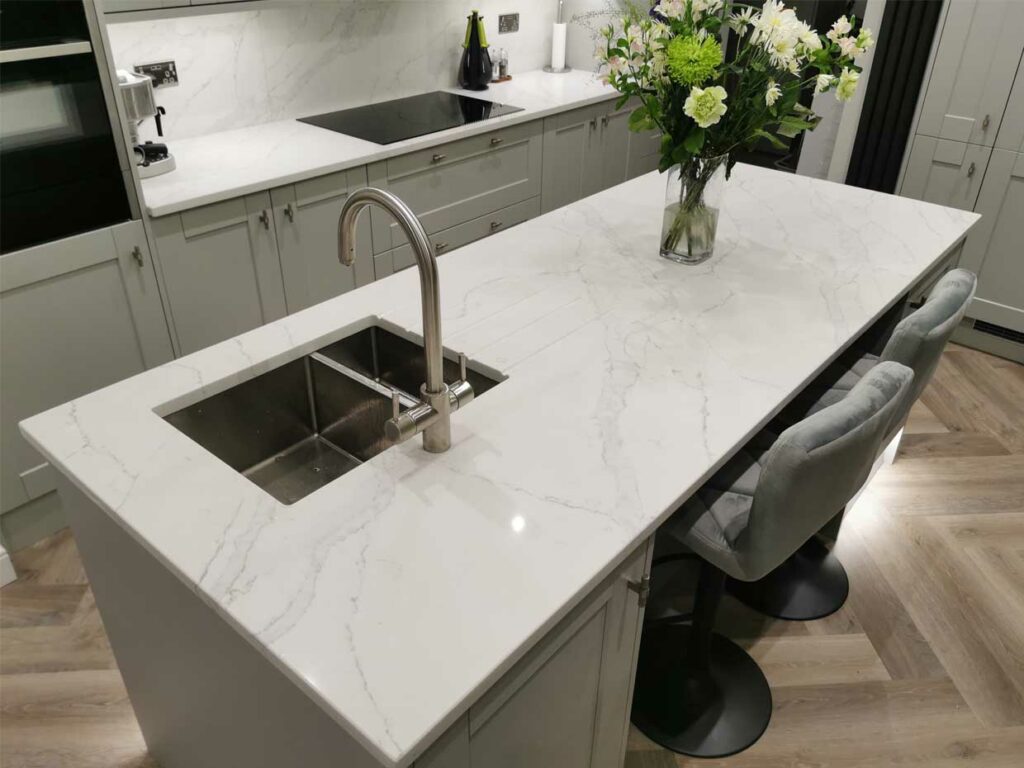 Why Choose Rowe Granite To Supply & Install Your Kitchen Work Surfaces?
Rowe Granite have been supplying and installing Quartz and Granite Kitchen Countertops all around the UK for many years. Within this time, we have developed an amazing, talented team who help us in our journey to strive for the best service for our customers.
Rowe Granite Stone Worktops started as a Father and Son company with over 50 years of combined experience between us. Our team will always be on hand from start to finish to help with any questions you have or showing you some of our Worktops colour samples and the colour and patterns to help make your decision as stress free as possible.
Contact us now for your no-obligation free quote. We will not be beaten on and like for like price.