White is one of the most popular colour choices for Kitchen Worktops. White is both stylish and modern making it ideal for kitchen worktops, units, breakfast bars an Islands.
In addition, using Quartz for your kitchen worktops will update any kitchen and add the perfect touch to your house. Quartz is a highly adaptable stone, it is a natural stone, offers beautiful patterns or can be plain. White worktops create beautiful and elegant finishes along with giving your kitchen a unique and modern feel.
Why choose White for your Kitchen Worktops?
White is the perfect colour to create a modern room, offering light and fresh tones to make the room feel larger than it may actually be. White can also act as a colour to hide any stains, nicks and marks on the worktop which often happens in a busy kitchen.
Because white is a natural colour, matching any colour scheme, it can soften an all black space and can also add depth to a feature kitchen. Whether your kitchen is a classic or contemporary look, adding a Quartz Worktop is a popular choice that will certainly turn heads.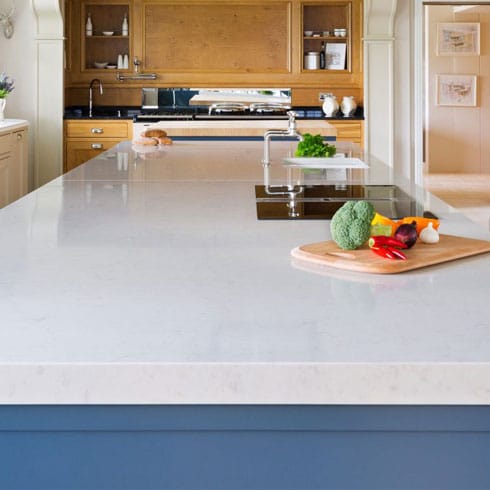 Benefits Of White Quartz Worktops
There are many benefits of having a Quartz Worktop. These reasons are why white quartz is one of the most popular colour choices for home owners from all around the UK.
High durability
Scratch resistant
Heat resistant
None-porous material, meaning that bacteria cannot spread and breed on the surface
Easy to maintain and clean, just use water, soap and a soft cloth
In addition, Quartz is a very strong material and is easy to maintain. It can be installed in slabs, making it easier to manufacture to the shape and size of your kitchen.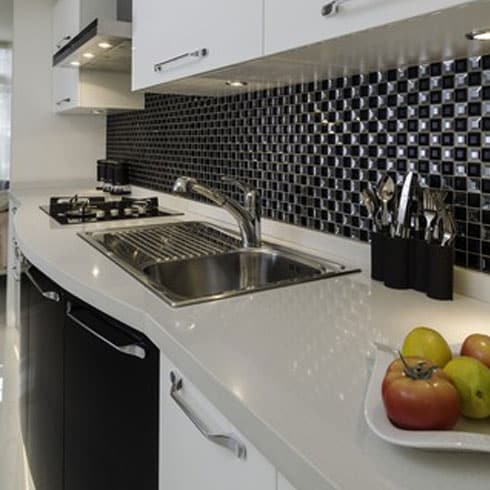 Why choose Rowe Granite to supply and deliver your Quartz Worktops
Rowe Granite have over 50 years of combined experience in supplying and installing worktops throughout the UK. During this time, we have grown an excellent reputation with our customers, with our helpful team on hand to help you with every step of the process.
We can provide you with worktop samples to help you choose the colour and pattern for your home. We have a huge range of quartz so there is sure to be something that matches your decor to create the best worktop for your kitchen. Contact us now for your free no-obligation quote.
Quartz Worktops Hull – Quartz Worktops London – Quartz Worktops Leeds